Expert Restoration of Your Furniture
About Us
When you entrust a piece of furniture to a conservator/restorer, whether it is 300 or 30 years old, you need to know it will be treated sympathetically, competently, and carefully. Unless you have a personal recommendation, it is difficult to be sure whether you are handing it over to a skilled craftsman or someone who claims to be trained when they aren't.
Here's why our founder says you should rely on JD Worrall (Conservation):
"While I cannot comment on the majority of the people who call themselves restorers – or even conservators – I can present my own credentials.
I have been practicing furniture restoration since 1991. I studied for and gained a diploma of higher education in furniture restoration (distinction) then a BA Honours degree in furniture conservation (1st class), both awarded by Manchester University. I then worked at a prominent antique furniture restoration company in the centre of Derby for a year before setting up my own conservation/restoration business in 1996.
It is important when planning a scheme of restoration or conservation that a minimum of physical interference is undertaken, so as to preserve the patina and visual history of a piece. In this way, its integrity and its intrinsic value will be maintained.
It makes no difference whether I am commissioned to conserve or restore a 17th century oak drop leaf table or a 1990s display cabinet, I apply the same care and attention to each and every piece entrusted to me, and will work to attain the very best results possible in every case.
I am happy to assess and discuss any piece, and advise on all possible plans of restoration that could be taken. I make no charge for a verbal assessment and estimate.
I undertake commissions for collectors, private individuals and institutions, as well as trade and commercials contracts."
Restoring All Types of Furniture in Macclesfield, Cheshire
Expertly Restored Items
For worn out, damaged pieces of furniture that need lovingly bringing back to life, look no further than our restoration services. Treating all items carefully, we ensure that the integrity and intrinsic value of the piece is maintained.
The Professional Finish
Having your furniture properly finished by a team of highly skilled experts will improve its look and overall value. We utilise an array of techniques to give your much-loved items a touch of style and sophistication.
Contact our experienced furniture restorers today, in Macclesfield, Cheshire, to acquire more details about our meticulous furniture repairs.
Bring your tired-looking furniture back to life by calling upon JD Worrall (Conservation). Based in Macclesfield, Cheshire, our highly regarded furniture restorers work tirelessly to carry out all aspects of furniture restoration.
Treating your items with skill, care, and attention, we provide high-quality furniture repairs to make sure that your piece's worth and appearance is maintained. For more than 20 years, our skilled specialists have been on hand to revamp your property's interior furnishings.
We are experts in:
Furniture Restoration
Cabinet Making
French Polishing
Frame Repairs
Carving
Gliding
Veneer and Inlay
Traditional and Modern Finishes
Caning and Rushing
Upholstery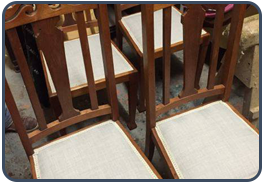 Discount Applies When You Spend Over £100 on Your First Restoration – Please Quote "15FIRST"